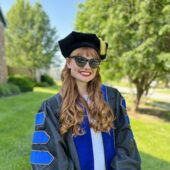 Rebecca Johnson
Visiting Assistant Professor
University of Kansas Ph.D.
Christopher Newport University
128 Carswell Hall
336.758.5405
rjohnso@wfu.edu

Rebecca Johnson is a Visiting Professor of Communication at Wake Forest University. She received her Ph.D. in 2022 from the University of Kansas and studies long-distance romantic relationships, online dating, flirting styles, and technology use in interpersonal relationships. Additional research interests include general social media use, sexual orientation and gender identities, and online communities. Her latest publication focuses on social support (or the lack thereof) of long-distance romance and how it impacts people in those relationships. Dr. Johnson's work can be found in the Journal of Social and Personal Relationships, New Media & Psychology, the Journal of Applied Communication Research, and Media Psychology.
David Robertson
Visiting Assistant Professor
Wake Forest University MA
Wake Forest University
Carswell Hall
3364585405
robertda@wfu.edu

David Robertson is Visiting Assistant Professor in the Communication Department. He taught in the School of Business in 2010-2015 before joining the Communication Department full-time in 2022 upon retiring from Hanesbrands, Inc. David's marketing career includes brand management and general management experience from Procter & Gamble, Celestial Seasonings, and Hanesbrands. He led brand strategy and marketing for several world-class brands, including Hanes, Champion, Playtex, Bali and Maidenform. David began his marketing career at Procter & Gamble, where he developed and executed growth strategies for the Downy and Bounce fabric conditioner brands. Following P&G, David led new product strategy at Celestial Seasonings, the leader in the specialty tea market. At Hanesbrands, he led brand marketing for Hanes, the largest apparel brand in the US, and developed the first global marketing team for Champion.
David holds an MBA and BS from Wake Forest University.
Frank Robinson
Adjunct Professor
Wake Forest University- MA
Winston-Salem State University-BA
Carswell Hall Carrell, 3rd floor. 29/30
robift20@wfu.edu

Born and raised in Philadelphia, Frank is a proud U.S. Air Force veteran with over 28 years of Healthcare Management experience working with Fortune 500 companies – SIEMENS Medical and Universal Health Services.
Currently, he is the CEO of P2H, LLC (Videography Services and Social Media Management); Co-owner of Chilly Philly (Philadelphia Water Ice), and CEO of Empowered2Empower, LLC (a veteran resource company).  Frank also provides voiceover services for WSNC 90.5 FM – Jazz.  He also serves as the Senior Pastor for a local Winston-Salem Church.